Dual 6-1/2″ for Front Door 21-23 Ford Bronco Speaker Pods
SKU: 21-FD-BR-UV-AL-FD-D6
Speaker Pod Finish / Texture
Choose your Pod Finish
Pod mounting Hardware
Black or Stainless Button Head Hex screws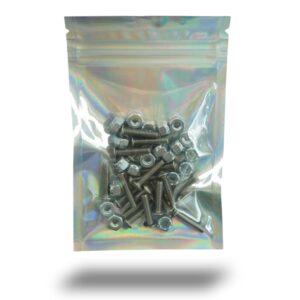 1 × Bag 'O Nuts... and Stainless Steel Hex Button Head Machine Screws (Qty 21) Pod
6.5in Speakers
Select the Best Speakers for your Pods.
Speaker Mounting Hardware
Black or Stainless Button Head Hex screws
Wiring Kit
Everything you need to hook up your speakers.
All speaker pods and grilles are sold as a pair (driver and passenger side).  Quantity 1 is all you need.
Loading...
These pods come as a set (passenger and driver included when ordering quantity 1).
Pods are made from durable 1/8″ ABS plastic.
Pods are shipped black, but can be painted to match your interior using SEM Classic coat, or any other spray paint.
They include hardware for mounting to the door panel.
Speakers not included.
This speaker kit, when wired per our instructions, will produce an impedance of 2 ohms per channel.  While most stereo systems (aftermarket or factory) will support and function with a 2 ohm load, it is possible that damage can occur to the stereo system, or that the stereo system will not function with this configuration.  Please perform your own research to ensure that you are comfortable with this installation.  Custom Speaker Pods LLC will not be held responsible for any damaged stereo equipment.
List vehicle fitment here