Dual 6-1/2″ Speakers for Non-Smoking Rear Door of 99-07 Ford F-250 Crew Cab Speaker Pods
SKU: 99-FD-SD-CC-NS-RD-D6
Pod Finish Texture
Black with Grained Texture, Black with Leather Texture, Black with Smooth Texture, White with Grained Texture, White with Smooth Texture, and NEW Double Thick Walled Ultra Durable Black.
Pod mounting Hardware
Black or Stainless Button Head Hex screws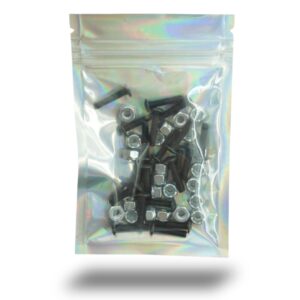 1 × Bag 'O Nuts... and Black Oxide Hex Button Head Machine Screws (Qty 17) Pod
6.5in Speakers
Select the Best Speakers for your Pods.
Speaker Mounting Hardware
Black or Stainless Button Head Hex screws
Wiring Kit
Everything you need to hook up your speakers.
Thump Covers
Protect your Speakers!
All speaker pods and grilles are sold as a pair (driver and passenger side).  Quantity 1 is all you need.
Loading...
Dual 6-1/2″ Speakers for Non-Smoking Rear Door 99-07 Ford F250 Crew Cab Speaker Pods
6.5″ Speaker:
Speaker Mounting Face Diameter: 7.3″
Cutout Diameter: 5.7″
Speaker Mounting Depth: ~3″
These pods come as a set (passenger and driver included when ordering quantity 1).Pods are made from durable 1/8″ ABS plastic. Pods are shipped black, but can be painted to match your interior using SEM Classic coat, or any other spray paint. They do NOT include hardware for mounting to the door panel. Speakers not included.
1999-2007 Ford F-250 F-351